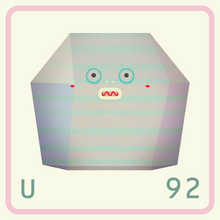 Uranium is an element in the game.
Oscilloscope: Enjoys the Oscilloscope
Centrifuge: Changes into Neodymium
Bunsen Burner: Enjoys the Bunsen burner
Test Tubes: Changes into Hassium
Freezer: Turns into Teslium
Type: Solid
Appearance: A grey Boron. He was once a thing called Ponta.
Number: 92
Voice sfx: "Uuuuuuu"
How to pronounce his name: Ur-an-i-um
Symbol: U
Community content is available under
CC-BY-SA
unless otherwise noted.