Carbon is an element in the game.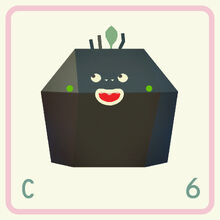 "Say hi to Carbon! This is your BFF in life. You can find it in practically everything you need. Food, in your barbeque, pencils and diamonds!"
How To Change Carbon
Oscilloscope: Boron
Centrifuge: Silicon
Bunsen Burner: Nitrogen
Type: Solid
Appearance: A black element with white lips, green cheeks, spikes and a leaf on its head.
Number: 6
Voice sfx: "Ci-cu-ca-ci-co!"
Extra info: [1]
Community content is available under
CC-BY-SA
unless otherwise noted.